Service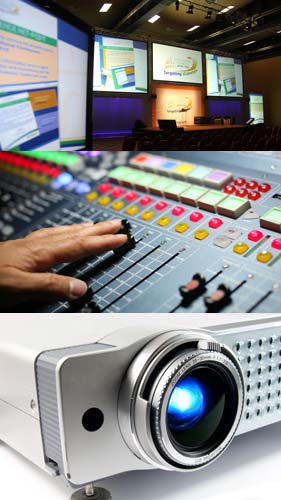 Audio Video Lighting Service in Italy
---
MediaEventi provides audio video and lighting rental throughout Italy as well as technical assistance for events such as concerts, conferences, conventions, private parties, presentations, meetings, etc.
The service always includes equipment transport and installation. On request, technical assistance staff can also be provided, as well as interpreters for the simultaneous interpretation, room or accreditation services (hostesses) during events in Milan, Turin, Bologna, Naples or Rome.
Audio Service
Audio Service – i.e., rental of amplification systems such as speakers, mixers, amplifiers, table and wireless microphones (for conventions, congresses and presentations), headband microphones, etc. Recording systems, conference systems, or record players, cd players and speakers (for parties and entertainment events) and other products related to amplification based on the type of event.
Video Service
Rental of products such as:
 Projectors and video projectors with different resolutions to suit individual needs and self-supporting projector screen
 Monitor Rental, LED screens, LCD, 3D monitors, plasma, projections.
 Trade technicians such as cameramen and shooting technical support service. Recording and realization of CDs of the event
Lighting Service
Lighting Service and light furnishings: conventional projectors, motorized and led, spotlights, designer lights and par, light effects, laser effects, moving heads, control lights, etc. In addition to the rental of light elements such as chairs, desks, bar counters, tables, etc.
Translation Booths
Translation Booths: simultaneous translation booths and systems with headphones for listeners rented throughout Italy. On request we can provide interpreters and translators, and room attendants.
Generators
Generators of various types from 1 to 1000 kW, in soundproofed, super-silenced, open or base versions, and in containers.
Our services are available throughout Italy, especially Rome, Milan, Florence, Bologna, Padua, Verona and Turin.